This converts the front suspension to a double wishbone setup.
The kit consists of new Version 2 HD CNC machined lower arms made from solid Acetal/Delrin. Unlike 3D printing and even ABS plastic molding Delrin is very strong, resists wear and due to the design has some flex to absorb impacts.
The hub carriers are under stress from suspension and hub mounting points, so these are machined from solid 6061 aluminium for maximum strength to resist the loads and impacts of off road driving.
Upper links are made using SSD rod ends and stainless M4 threaded bar for adjustable length. These are attached to the chassis using a carbon 3mm plate.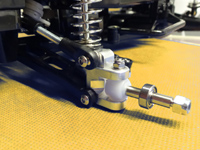 Everything required to convert the front suspension to double wishbones.
Pair of new V2 HD Delrin wishbones and alloy hubs.
Upper links with rod ends.
Carbon mounting plate.
All fasteners and fixings needed are included and made from high quality stainless steel.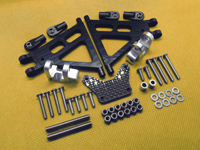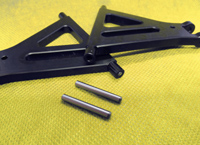 No modification is required to your chassis, some parts are reused, like the Tamiya U bracket, which allows the same arms design for left and right.
Full instructions and all hardware is included.