These attach to the existing wheel hubs and increase the width of the truck by 19mm per side for a total of 38mm/1.5" of extra width.
These require no drilling of the wheels.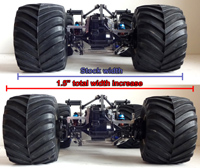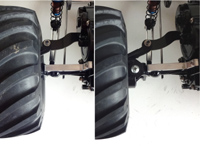 4 x Delrin wheel wideners
4 x Axle extenders and washers
20 x M4 cap screws
UK: £25 + £2 post
USA: $32 + $7 shipping
email or buy on ebay by clicking:

Loosley attach the wheel hub to the widener with the 5 screws before tightening them up in a star pattern.
Put the assembly on the hub followed by the washer then add some locktight to the axle extender before tightening it up.